Plan a Perfect Long Weekend in Yosemite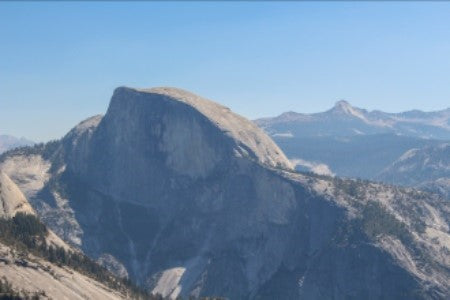 Sure Yosemite is big and crowded, but with the right plan, you can see some of the best of Yosemite over a long weekend. Here's how to plan 3 perfect days in Yosemite, courtesy of Kilimanjaro Gear expert Connor.
A Long Weekend in Yosemite
Yosemite National Park is one of the most popular parks in the United States. This national park stretches across the Sierra Nevada Mountains in California and is home to age-old Sequoia trees, gushing waterfalls, and sheer granite cliffs that dwarf the passerby.
It takes more than one visit to enjoy everything the park has to offer. If you're like most people and have to fit your outings between a 9-to-5 grind, there are 4 key destinations within the park you can hit on a 3 day weekend!
Plan Ahead
Securing a campsite is hands down the most difficult obstacle you'll face.  Yosemite is one of the most popular national parks in the US, right up there with Zion National Park.
On a recent trip there, campers next to us told tales of hitting 'refresh' on their computers over and over in a desperate attempt to confirm their spot. To their dismay, each time they selected one, the page would inform them that that spot had just been taken. And this was 5 months in advance of their desired dates!
Be Flexible
To avoid this hassle, don't plan your trip on a heavily-trafficked week of the year AKA anytime between Memorial Day and Labor Day. And be ready to settle for your second or third preferred campsite.
Remember, being in Yosemite in itself is a win! So take what campsite you can. Weekdays and the shoulder season months in late fall and early spring can be the least crowded and most opportune time to see the park covered in a picturesque layer of snow (if you can bear the cold).
Once you have secured a camping spot or are visiting just for the day, here are four spots you won't want to miss.
1. Yosemite Falls
Yosemite Falls is the highest waterfall in North America and the first destination to put on your "to-do" list. The falls is made of three sections (Upper, Lower, and Middle Cascades) totaling a whopping 2,425 feet and offering breathtaking views!
The waterfall typically peaks in waterflow between the months of May or June when most of the snowmelt comes running down. By August you may only catch a glimpse of the runoff, however, if this is the only time you can visit the valley, the height of the falls alone is still stunning.
I recommend starting your hike on Lower Yosemite Falls trail as early as possible to beat the sun and the crowds. After reaching Columbia Rock, take a moment to rest. Then push a little further to Yosemite Point across the creek. There you will find a south-facing, panoramic view of Half Dome.
2. Vernal Falls
Photographers especially love this waterfall, since it flows longer in the year than others. Also, rainbow reflections can often be seen and captured across its fall.
For the inexperienced or easily fatigued hiker, it is very approachable by paved trail. Hiking to the top of this fall is great for the day after you've climbed Yosemite Point, since it is shorter (though steeper).
I recommend you rise extra early for this hike since finding parking can be surprisingly difficult, even early in the morning. Trust me...waking at the crack of dawn sure beats sitting in traffic and competing for a parking spot with everybody else who decided to sleep in. The crowd will catch up to you eventually, but if you're early enough, you'll only face the crowds on your way back down.
3. Nevada Falls
Once you've reached the peak of Vernal Fall, the less-occupied (and just as gorgeous) Nevada Falls is only a 15-minute hike up stream. You can't touch the falls without dipping in the water (which is not recommended and can be dangerous depending on the time of year you visit) but the spray blasting off the rocks will cool you off quickly and it is definitely a sight you do not want to miss!
4. Half Dome

If you travel beyond Vernal and Nevada Falls, you will be well on your way to Half Dome. Although it was deemed "perfectly inaccessible" by geologist Josiah Whitney in 1869, it was summited only six years later by a Scottish blacksmith named George Anderson.
With the use of a drill, a hammer, a rope and his bare feet, Anderson forged his way up the massive dome of granite. His brazen drills were later replaced, but the holes remain and can be seen from the current double-cable stanchion.  
Today, the monolith is open to the public, but a permit is required to use the sub dome and Half Dome cables. Gaining nearly 5,000 feet in elevation, the average person needs at least a gallon of water on this hike.
It takes about 7 hours to reach the top. You'll need a pair of trusted boots with lots of support and traction. For more information on the lottery-based permit system, visit National Park's website.
Cool Down
After all the hiking, you may want to kick off your boots, crack open a beer, and relax. That's where the Merced River is a lifesaver. The river extends 145 miles through Yosemite and into the San Joaquin Valley.
You can find several places where it meanders into a stream to safely cool off. Photographers won't want to put their camera down here either. The glimmering water, fallen logs and surrounding trees with a background of the Sierra Nevadas are incredibly picturesque.
So there you have it—some tips to make the most of your next three-day weekend in Yosemite. If you can stay longer, some other spots to consider include Glacier Point, Tunnel View, Yosemite Meadows and Tuolumne Meadows. A quick search on the internet will yield information on these heavily visited areas.
So book early, rise with the sun as much as you can, and plan your next visit as soon as this one comes to an end. Cheers!
Connor